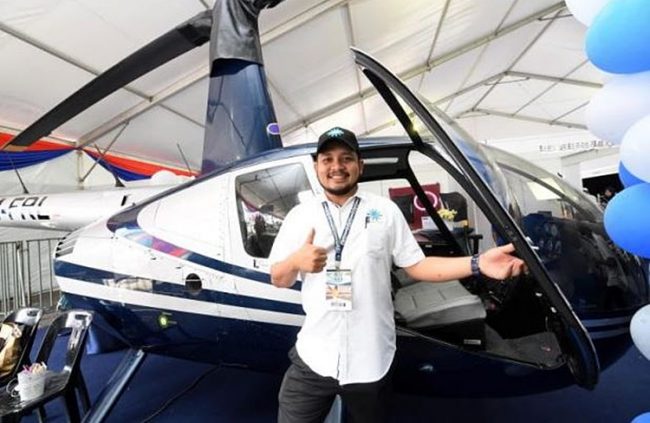 Are you often frustrated with the Kuala Lumpur traffic and worried you might not make it to your destination on time?
Fret not, because soon you will be able to book yourself a taxi service like no other – that will transport you from up in the skies!

A 'Heli Taxi' service will commence later this year and its owner Faiz Fahmi Sazali, said the application will take another three months to develop before customers can book for a helicopter service at their fingertips.
Heli Outpost Sdn Bhd, a commercial and tourism helicopter service, is the first of its kind in Malaysia to provide such services and was launched by Prime Minister Datuk Seri Najib Tun Razak at the 'I am Usahawan GO 4.0 carnival'.
Faiz, 29, who is from Langkawi Island, had started this operation back in 2009 and relayed that the app was conceptualised on 'real-time location tracking', as well as payment system for easy access by customers and can change the booking method used, from manual to digital.

"The application comprises two services, namely the Helicopter Tour where tourists can book helicopters to fly around the Langkawi Island through the existing packages provided, and the Helicopter Taxi where people can book a helicopter ride to fly to their destinations, for example to fly from Alor Setar to Ipoh," he told Bernama.

To date, the company has 11 helicopters that can accommodate four to five passengers per unit. Three helicopters are stationed in Langkawi Island, Kuala Terengganu, Penang, Kuala Lumpur and Port Dickson.
Last year, it was reported that 18,000 passengers had used this unique taxi service, which is the company's highest recorded figure – with majority customers being tourists from the Middle East.
To book yourself a ride, visit their website http://www.helioutpost.com.my/ for further information.
-mD