While the name Hawa Rizwana is not yet as well known, one look at her photograph and you will definitely recognise her claim to fame.
Her sudden popularity is not so surprising as she appears to be celebrity Noor Neelofa Mohd Noor's doppleganger! Spitting image of the Malaysian celebrity beauty, we sometimes can't even tell them apart.
If done right, social media can be a useful tool to advertise yourself professionally. Hawa's instant fame was triggered on social media as netizens started to take note of her resemblance with Neelofa gaining Hawa herself over 55k followers on Instagram today.
Netizens of course were excited about this and a compilation of her pictures and videos were made and uploaded on Youtube which now has over 24,000 views!
"I was surprised to learn of this from my parents and relatives. Even they did not expect me to become popular," she said at Seri Pentas, Bandar Utama, Petaling Jaya, recently, NST reports.
"I've never thought of myself as Neelofa's double. Of course, I take that as a compliment because I admire Neelofa for her knowledge, talent, beauty and entrepreneurship.
Reported in local media, Hawa said she realised her uncanny resemblance to Neelofa a few years ago as people came up to her, telling her so.
And coming from a background of broadcasting, Hawa's skills in the field definitely did not go unnoticed as she too has a passion for being in front of the camera and intends to make a career out of it.
Hawa's father, veteran Selamat Pagi Malaysia co-host Ahmad Redzuan Abdul Rahman, has been very supportive of her career and in fact had pushed her to pursue it.
"He told me I have good communication skills and a ready smile. I'm also a chatty person. That's why I took up mass communications," said the second of three siblings, who graduated early this year.
While her father worked for Radio Televisyen Malaysia, Hawa confessed she is a TV3 and TV9 fan. Growing up, her favourite was the popular documentary series Majalah Tiga, and she admired its former host, Nor Azlina Redzuan.
"TV3 and TV9 have always given viewers a less formal, viewer-friendly approach to broadcasting.
"This is what I like about them, and I'm glad to have spent four months of journalistic training with TV3, hosting women's magazine show Wanita Hari Ini."
Now, her new responsibilities will include hosting Berita TV9 at noon and 8PM. She will be sharing her duties with a senior newscaster. As she holds a deep passion in journalism, this will be the perfect stepping stone for her to move her career up the ladder.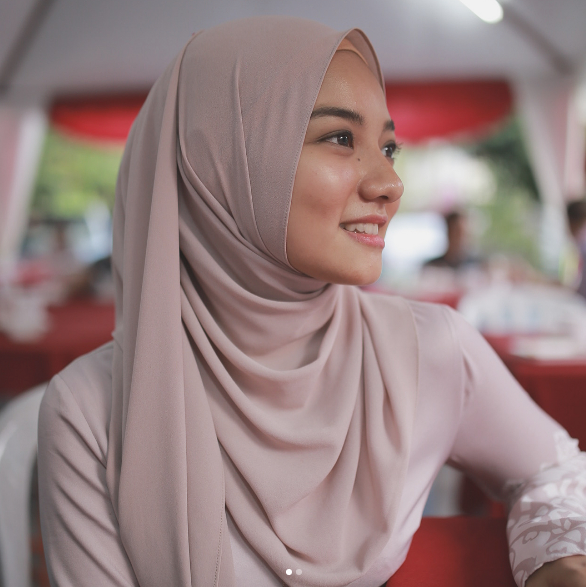 "It is natural for newscasters to become producers of their news programme and on my part, I would love to produce and host documentaries about Malaysian issues, along the lines of Majalah Tiga."
Perfect for her line of work, Hawa is also fluent in Bahasa Malaysia and English, and can even speak a little Mandarin.
"This comes in handy if I were to cover reports on Malaysians in China, Hong Kong and Taiwan. Mandarin is not easy, but it'll become increasingly important in the years to come."
We hope for all the best in Hawa's successful career and may she blossom into a perfect inspiration for women of her generation.
-mD